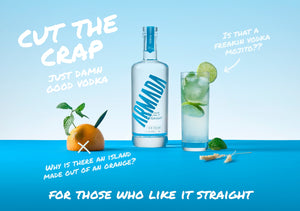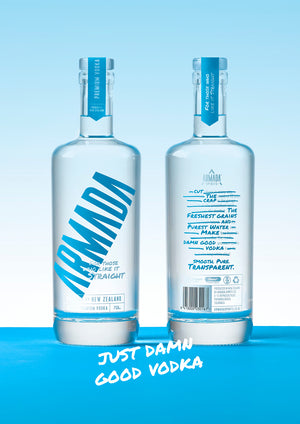 Our goals at Armada Spirits are to distill the finest vodka, gin, whisky and rum possible, using only the best ingredients New Zealand (and sometimes, Australia too when we're desperate) has to offer. All whilst having fun and meeting a bunch of awesome people along the journey.
We're in this for the long haul (mostly because the dark spirits are slow to age) so jump aboard, join the Armada....
More about us
Award Winning Vodka
Armada Premium Vodka, distilled from the finest South Island grown grains and blended with pure crisp water from the North Island. Our distillation and filtration methods have crafted a smooth, easy drinking vodka, with notes of sweet grain, vanilla and creme brulee.
It has been awarded Bronze Medals in the New Zealand Spirits Awards in both 2021 and 2022.
So you know you're getting a "Damn Good Vodka"
Available through our online store and select liquor outlets NOW!!!
SHOP NOW
Award Winning Gin
Armada Premium Dry Gin was awarded a Bronze Medal at the New Zealand Spirits Awards 2022 and more recently a Silver Medal at the Junipers NZ Gin Awards 2023
Our custom blend of a handful of carefully selected botanicals, along with our unique distillation methods have created a delicious straight up honest gin worthy of your finest mix, or simply by itself!
Citrus forward premium New Zealand Dry Gin.
FRESH. CRISP. SIMPLE.
Available through our online store and select liquor outlets NOW!!!
SHOP NOW
Barrel Aged Rum
Millenhall Barrel Aged Rum, small batch release - Limited Edition.
Our Rum is aged for a minimum of 3 years by the Papamoa coastline, in re-charred ex New Zealand Red Wine Barrels.
A delicious blend of molasses and cane sugar, distilled through our copper column still, has produced a unique, sophisticated and smooth tasting rum.
Available in our online store and select liquor outlets NOW!!
SHOP NOW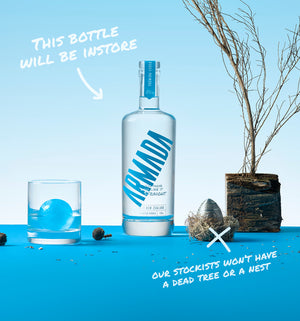 NZ Stockists
We have a selection of great stockists who sell our damn good products and we are working hard to get it to a store near you around NZ
If you can't find it in your local store, ask them why the blimmin heck they don't have it on the shelves yet!
FIND OUR DAMN GOOD SPIRITS HERE!!
Shop Online
Don't feel like leaving the house to buy our products? No worries, we've got you covered. Shop online through our website and we'll get your order delivered direct to your door right across New Zealand. Too easy!
SHOP NOW
Let's get social
Check out the links below to follow our damn good journey over on Instagram & Facebook